KIWI
Ōtanewainuku belongs to the eastern North Island Brown Kiwi taxa area which includes East Coast, Bay of Plenty and Hawkes Bay.
We were very excited in 2013 when, after many non-fertile eggs, our breeding pair Maui and Whetu had a chick hatch at Kiwi Encounter. She was named Pistachio as she was such a hard nut to crack and had difficulty breaking out of her shell.
Volunteers spend many hours monitoring kiwi, both our juveniles in the creche at Warrenheip and our two breeding kiwi, Maui and Whetu.
Transmitter batteries are changed on a regular basis and the kiwi are weighed and have a health check at the same time. They are feisty birds, using their strong back legs to defend themselves.
Maia and Whetu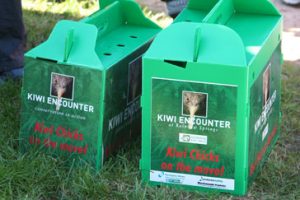 These were our first kiwi translocated to Ōtanewainuku. They were part of the captive kiwi breeding project and although the eastern taxa of the North Island brown kiwi, they spent their captive lives in Willow Park in Christchurch. We monitor the male kiwi using a radio tracking device which is carefully attached to his leg. When he incubates an egg the device senses this and changes the signal it emits. We can then estimate how many days he has been sitting.
The best time to remove the egg is around a week before hatching (around day 35). We wait until dark, some distance away in silence, until he leaves the nest for an evening feed.
Eggs are carefully removed, keeping them in the same position they were in the nest (a small pencil mark is made on the egg). It is crucial that the air sack is at the top (just as it is in the nest). A level is used to make sure the transport box is kept level on its journey. Eggs are gently wrapped in a warm sock, and placed in a padded chilly bin.
We transport the eggs to Kiwi Encounter in Rotorua for incubation and care until they reach their release weight and size, when they are released into the forest.
Kiwi chick rearing with Project ONE (Operation Nest Egg)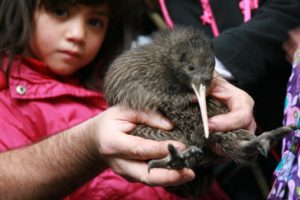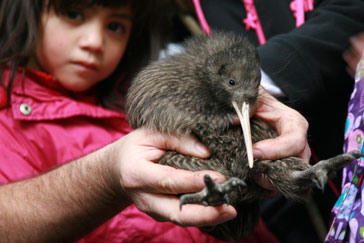 During the kiwi breeding season, June – February, the Trust volunteers trained to work with kiwis combine with DOC staff to maximise the chances of chick survival. Fertilised kiwi eggs are taken from the wild to a specialised incubation facility (Kiwi Encounter in Rotorua).
At Kiwi Encounter the chicks remain in a controlled environment for five to six months to become big enough (at least 1kg) to defend themselves against stoats once they are released.
To obtain kiwi eggs, we need to know where the males' burrows are and how many days the eggs have been incubated. Volunteers use radio tracking equipment to monitor our kiwi, most of which carry miniature radio transmitters to gain this vital information. Sometimes specially trained and muzzled kiwi-tracking dogs are used to sniff out new or missing birds.
Unlike any other bird species, the kiwi chick hatches fully feathered. After a week it follows its father around outside, learning how to forage. The father protects it around the nest burrow, but if it strays it is vulnerable. At around three weeks the adult moves away and the chick continues to use the burrow as a base, venturing further afield. It is very vulnerable to predators at this stage.